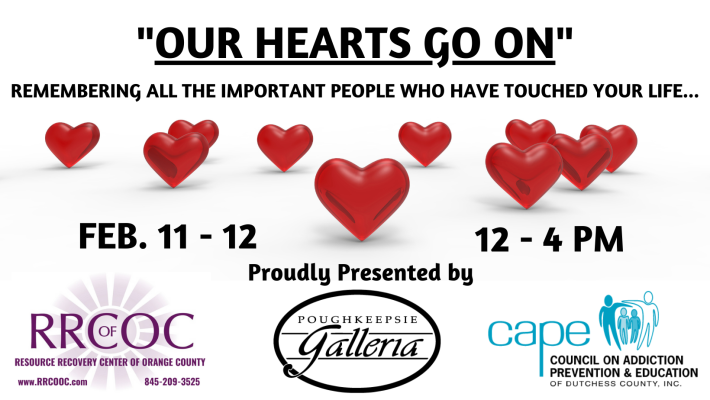 Our Heart Go On" Event Synopsis…
The event, "Our Hearts Go On", will be an initiative supported by Pyramid Management, the Resource Recovery Center of Orange County and several other partners from the Hudson Valley area.
The events will be over two weekends in February.  It will run from 12-4pm, Feb. 11th & 12th at the Poughkeepsie Galleria and 12-4 pm, February 18th & 19th at the Crystal Run Galleria.
The goal of the event is to create a positive way in which the community's grief and sadness can be turned into a supportive and educational event that honors those who have been lost due to chemical overdose, suicide, drunk driving, social violence and the many physical ailments which take individuals far too soon.
Using the idea of a "Forever in our Hearts" Wall, attendees will be able to place a heart on the wall with the name of a person / or persons they have lost to remember and honor them.  Donations for the Hearts will start at $1 and all proceeds from them will go to benefit the non-profit organizations participating in the event.
The following picture is an idea of the removable 4"x 5" sticker being used for the event.
Stickers will remain on the "Forever in Our Hearts" Wall for the remainder of February and the Malls will give away several Mall gift certificates to selected individuals who participated at a special event in March, when they can retrieve their hearts from the wall.
We are hoping this initiative with Pyramid Management will result in future projects to advance public education and relations between the community, local organizations and the businesses that serve us all..
WE HOPE YOU WILL JOIN US IN PROMOTING THIS INITIATIVE….