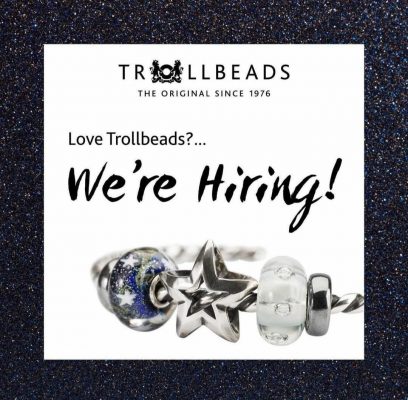 Trollbeads, United States is hiring Full-Time and Part -Time Specialty Retail Sales Associates for our Poughkeepsie Galleria Mall location in Poughkeepsie, NY
Trollbeads isn't a jewelry brand-it is a unique lifestyle. We specialize in Murano glass beads, precious and semi-precious stone beads, sterling silver as well as gold.
If you are ready to start a gratifying position that includes a great work environment with opportunities to grow within our company, we want you to join our team. Come share an artful world of unique creativity and discover friendship, joy and harmony with the Trollbeads Poughkeepsie Galleria Team.
Responsibilities include and not limited to: 
Opening and closing store
Monitor social media accounts
Creating appealing displays (in store and social media)
General up-keep of the store
Processing inventory
The ideal candidate: 
Has open availability
Possesses excellent customer service skills
Fun personality
Willing to learn
Multi-Tasker
Follows Direction
Has a passion of sales
Comfortable working alone and with a team
Requirements include: 
18 years or older
2 + years of Specialty Retail experience preferred 
2 + years of Customer Service experience
Proficient with Facebook and Instagram (preferred)
Our team members adore our generous discount on items!
Trollbeads United States, Inc. is an equal opportunity employer. We celebrate diversity and are committed to creating an inclusive environment for all employees.
Job Type: Full-time
Pay: From $12.50 per hour
Benefits:
401(k)
401(k) matching
Dental insurance
Employee discount
Flexible spending account
Health insurance
Life insurance
Paid time off
Vision insurance
Schedule:
10 hour shift
8 hour shift
Day shift
Holidays
Monday to Friday
Night shift
Weekends
COVID-19 considerations:
We are following all local, state and federal laws regarding retail and COVID-19.
Education:
High school or equivalent (Required)
Experience:
Customer Service: 2 years (Required)
Specialty Retail: 2 years (Preferred)
Retail: 2 years (Preferred)
Shift Availability:
Day Shift (Required)
Night Shift (Required)
Work Location:
Pay frequency:
Work includes:
Evenings
Weekends
Holidays
Paid Training:
Management:
Employees working per shift:
Company's website:
https://www.trollbeads.com/en-us
Benefit Conditions:
Only full-time employees eligible
Work Remotely:
COVID-19 Precaution(s):
Personal protective equipment provided or required
Plastic shield at work stations
Social distancing guidelines in place
Virtual meetings
Sanitizing, disinfecting, or cleaning procedures in place