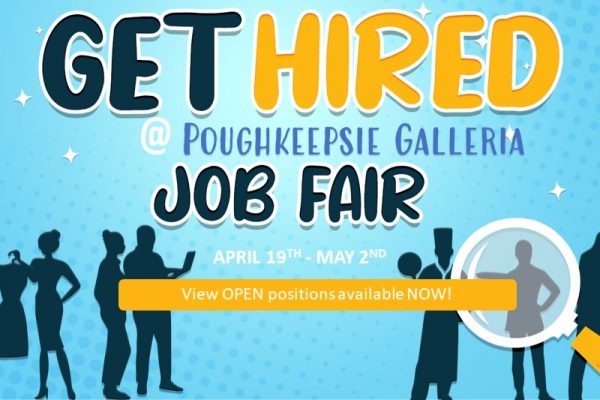 POUGHKEEPSIE GALLERIA is hosting a hybrid online and in-person job fair —
Poughkeepsie, NY – Now through May 2, Poughkeepsie Galleria is hosting a special "Get Hired!" job fair with many businesses looking to fill part- and full-time positions.  Available jobs vary and are being added daily to Poughkeepsie Galleria's website from a variety of tenants looking to fill open positions. Potential candidates can apply for everything from Barista!, Manager, Cellular Sales Consultant, Shift Leader, Optical Sales, Beauty Advisor, Receptionist, Maintenance Mechanic, Sales Associates and more!  These positions will add to the 2,000 jobs Poughkeepsie Galleria provides within Poughkeepsie and Dutchess County.
How to Apply:
In Person: Now through May 2, potential candidates can visit Poughkeepsie Galleria and identify businesses that are hiring by spotting the special "Get Hired!" Job Fair sign in the storefront windows. Candidates simpy scan the QR code on the sign, which will bring them to Poughkeepsie Galleria's job page listing all available positions.  For many positions, candidates can link directly to its online application and apply right from their smart phone.  Some business window signs may also indicate that they have applications available inside.
Beginning Monday, April 26th, select businesses at Poughkeepsie Galleria will have a hiring table at its entrance to conduct on site interviews on their date of choice. Interested applicants can visit Poughkeepsie Galleria for this opportunity.
Hiring Event Period
Some of the Businesses Hiring
110 Grill
Aeropostale
Boost Mobile
Divas N Dons Boutique
Famous Footwear
Finish LINE
Ily Fashions
Pearle Vision
Piercing Pagoda
Pyramid Management Group / Poughkeepsie Galleria
Sephora
Sunglass Hut
T-Mobile
Taco Bell
The Crafted Kup
Trollbeads
UG2 / Housekeeping
Verizon Wireless
Wetzel's Pretzels
For a complete list of available positions, visit www.PoughkeepsieGalleriaMall.com/JOBS.
###
About Poughkeepsie Galleria
Poughkeepsie Galleria is Dutchess County's largest, most dominant shopping destination for over 30 years. Anchored by Macy's, Target, Best Buy, Sears, JCPenney, Dick's Sporting Goods, Poughkeepsie Galleria offers 120 retail shops including entertainment destinations Regal Cinemas and RPM Raceway.  Additional information can be found at www.PoughkeepsieGalleriamall.com and you can find Poughkeepsie Galleria on Facebook (Facebook.com/PoughkeepsieGalleria), Twitter (@PokGalleria) and Instagram (@Poughkeepsie_Galleria).
About Pyramid Management Group, LLC
Pyramid Management Group, owner of Poughkeepsie Galleria, is one of the largest, most innovative, privately-held shopping center developers in North America. Headquartered in Syracuse, New York, Pyramid's portfolio of retail-based, tourist and entertainment destinations dominate the northeast, with 16 properties located throughout New York, Massachusetts and Virginia. For over 40 years, Pyramid has led the industry by combining the best elements of traditional retail with world-class dining and entertainment, all under one roof. For more information, visit www.pyramidmg.com.